Sunday Training Information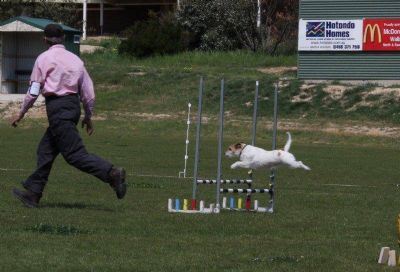 OVEN'S VALLEY CANINE CLUB

McNamara Reserve (Football Grounds)
Lewis Ave, Myrtleford
on SUNDAY MORNINGS
NEW MEMBERS ARE MOST WELCOME
ENROLMENT* IS AT 9:30AM ON THE 1ST SUNDAY OF THE
FOLLOWING MONTHS:
[*except for the Months of January, February, April, November & December]

To book a place contact KATH on PH. 0357 55 1264
SPECIAL NOTES:
First Sunday of the Month (Beginners induction) 9.30am-10.30am
(Except for January, February, April, November and December)
All members are invited to stay for morning tea and a chat after training.
If you are unsure which class you should be attending or would like to receive an assessment, to ascertain where you are at with competencies, please speak to: Kathy Volkmer (Lead Trainer).
***********************************************************************
TRAINING TIMES
OVENS VALLEY CANINE CLUB Inc.
SUMMER TRAINING TIMES
Commencing: 14th October, 2018
Advanced class: 8am – 9am
Socialisation: 9.30am-9.45am
Regular classes will continue on from socialisation
Beginners 4 week Classes: 9.30am-10.30am
​Obedience/Dog Sports Activities: 9.45am-10.30am
Morning tea: 10.30am coffee / cake/ scones
and a chance to talk with the instructors.
Monthly meeting will commence at
11am on the first Sunday of the Month –
All members are welcome.
Training will commence at 9.30 am during Summer
For the Month of February 2019 lessons will be revised.

Program for Summer training
8.00am-9.00 am : Instructors & Advanced handlers
9.15 am : Arrival of New members and their dogs
9.30 am: Induction of New members and their dogs
9.30 am-9.45am : Socialisation training and announcements
9.45am: Level 2
10.30 am: Morning Tea :
​######################################
WINTER TRAINING START TIMES WILL CHANGE -
AS OF SUNDAY 5th MAY 2019
With the cooler weather coming up, along with the finish of Daylight Saving, the Winter training time-table will commence as of Sunday 5th May 2019.
CLASS TIMES:
10am-10.15am Socialisation
10.00am-11am Beginners four week program-including induction
10.15am-11am Level 2
8.30am-9.30am Advanced Group
​###################################
***PLEASE NOTE THAT TRAINING WILL NOT BE HELD ON THE SUNDAYS OF THE FOLLOWING LONG WEEKENDS***
- EASTER.
~~~~~~~~~~~~~~~~~~~~~~~~~~~~~~~~~~~~~~~~~~~~~~~~~~~~~~~~~~~~~~~~~~~~~~~~~~~~~~~~~~
Membership & Training Fees
(These need to be paid in full the day you join. Cheque or cash is accepted.)
Once off joining fee ~ $15 per membership
Yearly fees
Single Membership ~ $20.00
Dual Membership ~ $30.00
Single Concession ~ $15.00
Dual Concession ~ $25.00
Junior Membership ~ $15.00
Under 16 years - no voting rights but all other privileges.
**A Victorian Canine Association (VCA) insurance levy of $8.00 applies to all
NON VCA / equivalent state canine council members**
Weekly training fee - $5 .00 per dog.
Please bring vacc. certificate.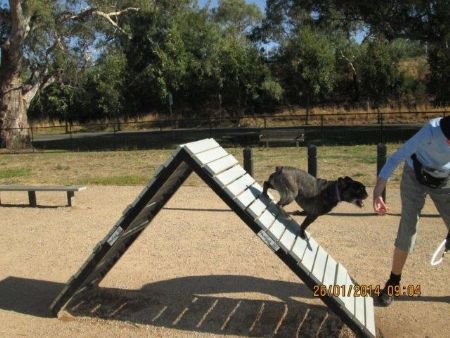 Tia showing her skills on the A frame